Are you looking for a reliable metal name tags supplier? Our high-quality metal name tags are made from the finest metal materials, and we offer a wide selection of styles, colors, and sizes to suit any need. Whether you are looking for name tags for employee uniforms, school name tags, product branding or metal luggage tags, we can create perfect product. So why wait? Place your order with us today to experience the difference that high-quality metal name tags can make!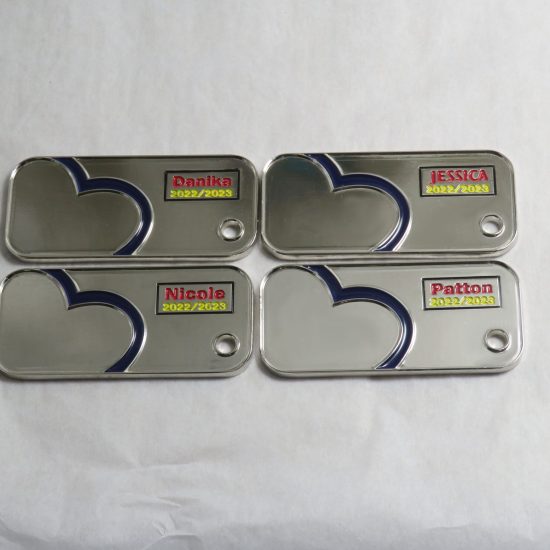 Want to get a metal name tags provider of the highest caliber at a reasonable price? You can  buy metal name tags from Custom Medals. They are created custom to your specifications. We can create Brass, Nickel or Copper finishes with or without colorfill, with or without holes for mounting in whatever shape and size you are wanting.
Looking for the best metal name tag? Look no further than Custom Medals. For over 25 years, the top-rated supplier of metal name tags in the US. Whether you need a metal name tag for:
A special event

Product identification

Your custom logo (for mounting)
We offer an unlimited range of styles and sizes to choose from. With our cutting-edge design and printing technology, you can create a metal name tag that perfectly suits your needs and fits your style. 
In search of metal name tags near me? Our metal name tags are designed and proofed prior to production, then they are shipped right to your door. You can mix-n-match finishes. Our team is here to help you create the ideal metal name tags for your project. We can custom engrave each name tag with or without color fill.  Shop now to start making your metal name tags right away!
Yes! Thanks so much for all of the help and patience with my inquiries. I did receive this shipment last week. The pins are just what we wanted. You did an excellent job!
Hi Britt, The coins were delivered today. You were right, they turned out awesome! Thank you!!
wow - all 48,000 something? you are remarkable!