What is a silicone wristband
100% Silicone wristbands are gold standard for quality and long shelf life. They can be debossed and filled with enamel to give them a colorfull twist. A standard ½" silicone wristband adult size is 210mm x 12mm x 2mm. Youth size is 180mm x 12mm x 2mm. We also produce ¾" and 1" wide Silicone Wristbands.
Benefits of silicone wristband
Many sizes and unlimited color combinations

Hypoallergenic

Washable

Odorless 

Recyclable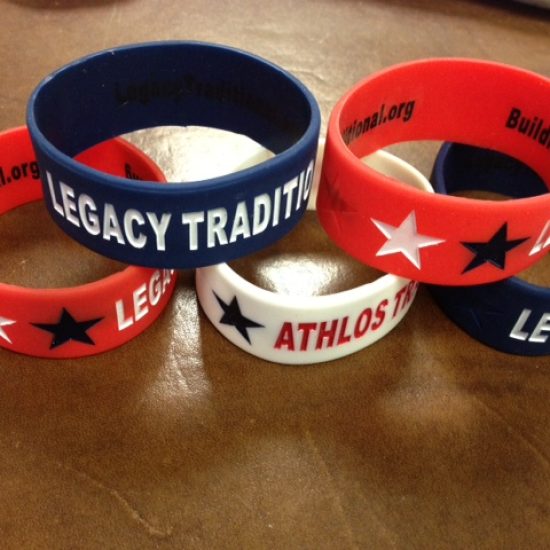 Since silicone is more durable and tougher than rubber, silicone bracelets outperform rubber wristbands and rubber bracelets of equivalent size and thickness. Rubber bracelets are more likely to break and quickly wear out. Wristbands made of silicone are strong and lasting.
Silicone wristband supplier
If you're looking for a silicone wristband supplier, you've come to the right place! We offer a wide variety of silicone wristbands in a variety of colors, sizes, and styles. We've produced over 6 million silicone wristbands.
Silicone wristbands are a great way to promote your brand, event, or cause. They're affordable, eye-catching, and easy to wear. And because they're so versatile, silicone wristbands can be used for just about anything.
So if you're looking for a silicone wristband supplier that can provide you with high-quality silicone wristbands at an affordable price, look no further than us! We'll make sure your silicone wristbands are precisely what you need. Contact us today to get started!
Yes! Thanks so much for all of the help and patience with my inquiries. I did receive this shipment last week. The pins are just what we wanted. You did an excellent job!
Hi Britt, The coins were delivered today. You were right, they turned out awesome! Thank you!!
wow - all 48,000 something? you are remarkable!