Send us an idea of what you want. If you have a logo... great! If not, OK too! You can just describe what you are wanting, the size and the quantity. Our staff will then send you a proof and pricing. You can modify or make changes until you're satisfied. We never charge for artwork or proofs! We look forward to earning your business!" Britt Wasson, President - Wassco Corporation dba Custom Medals
Upload artwork (optional)
Description of project
Get proof and pricing
Make changes or approve
Finalize order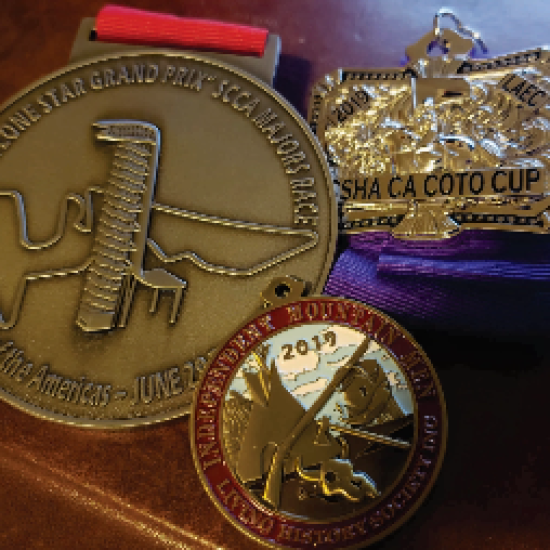 Buy Custom Shapes Medal in USA
Custom Medals has been rewarding athletic accomplishments, academic excellence, and other great achievements for over 25 years. We've been providing sports leagues, schools, businesses, and other organizations with Custom Coins, Custom Medals, Hard Enamel Lapel Pins, Soft Enamel Lapel Pins, Silicone Wristbands, Police Badges, Belt Buckles, Ornamental Castings, Tokens, Nameplates and Custom Castings. We make "Custom" easy! From idea to proof to finished product, we aim to make the process enjoyable. Our professionals will help you get exactly what you're wanting. We should always have the opportunity to celebrate achievements and make people feel exceptional.
Custom Medals has an art department that includes some of the best graphic designers in the business. This allows us to create completely customized designs based on the ideas, artwork, logos or suggestions from you. We also have an experienced sales and customer support team that can make sure you get exactly what you are wanting.
Additional services for Medals, Lapel Pins, Challenge Coins, Military Coins, Badges and any of our other products include Rush Service and No Minimums. Fast response and exceptional customer service are hallmarks of Custom Medals.
Call Custom Medals 918-834-4444 today to order Custom Shape Medals in USA, Challenge Coins in USA, Lapel Pins in USA, Silicone Wristbands, Police Badges, Custom Belt Buckles, Tokens, Emblems or Ornamental Castings in USA.
Yes! Thanks so much for all of the help and patience with my inquiries. I did receive this shipment last week. The pins are just what we wanted. You did an excellent job!
Hi Britt, The coins were delivered today. You were right, they turned out awesome! Thank you!!
wow - all 48,000 something? you are remarkable!